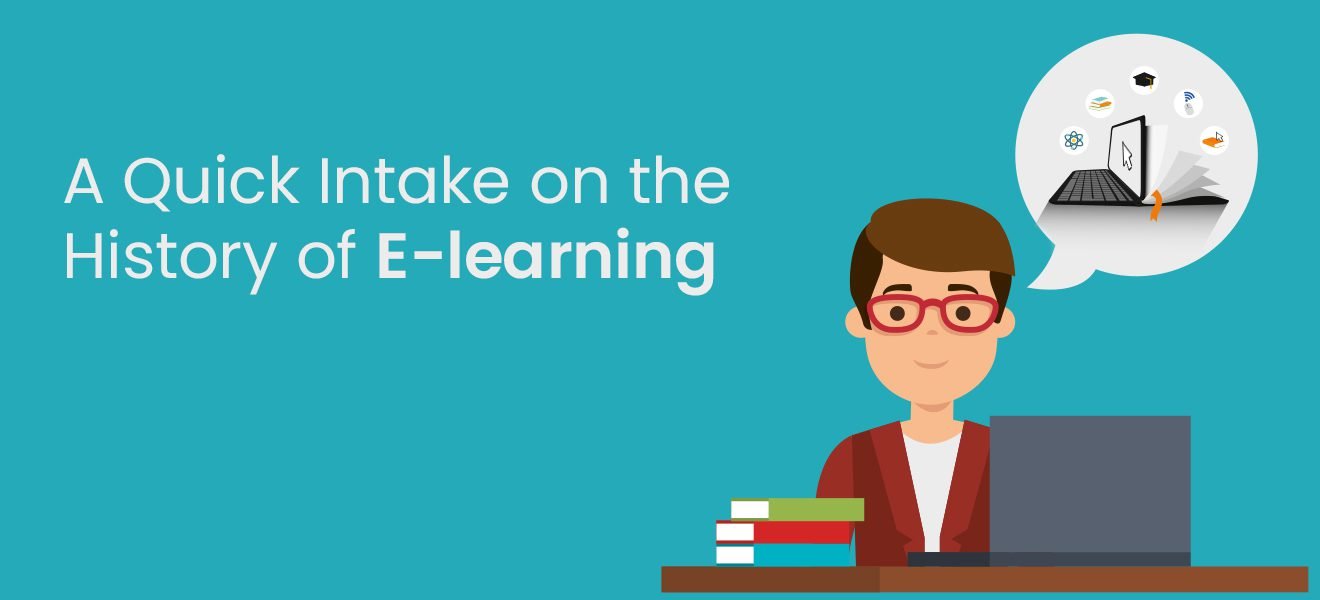 14 Jan

A Quick Intake on the History of E-Learning

E-learning refers to the concept of using digital technologies like the internet to educate all persons, without the limits of geographical boundaries. Such a definition is fairly new (since 2001), but it was first used in 1999 at a cognitive therapy seminar. Hence, e-learning is still considered a new format of learning. This includes e-learning localization.

The technology of e-learning has progressed in various ways in training, education, and business sectors. It has various interpretations in various sectors. At the level of schools, e-learning consists of a process of learning which makes use of both online and software-based learning tools. In the business, higher education, and training sectors, e-learning implies only internet-based learning.
Before the net
Much before the emergence of the internet, distance education was a concept used to offer education on particular subjects or skills. This method was called the correspondence mode and used the mail or postal system to communicate with students and vice versa.
Following the time after the internet was launched, open universities widened their reach and began the concept of distance learning. British Universities were the pioneers.
The beginning
E-learning or online learning originated in the 1990s. There was a rise in the use and technological developments of personal computers in this decade. E-learning became simple with the learning of skills through online means becoming easy.
Because of this, there was a rise in e-learning opportunities with greater acceptance of online environments. PDF text files and interactive CD ROM's emerged in the picture to make the process of e-learning easier. Online courses became increasingly popular when their monetary benefits increased. In this decade, there were developments like the digital transformation of content, online educational courses, personal computers for the home, etc.
Progressing technology (2000 to 2005)
Fresh technological progress did not counter the popularity of e-learning that emerged in the 1990s. Instead, the new technology made the e-learning concept more advanced. The fresh and upgraded software, technologies, and methodologies encouraged more persons to use tools like PowerPoint and Learning Management System (LMS).
Within this time period of 5 years, there happened several developments in the field of e-learning. Networks of social media, educational games, learning objects, enhancements in PowerPoint, scalable vector graphics, and access to wireless were some of the developments. Also, there was a development of etranslation services.
The era of fast progress (2006-2010)
This era was when E-learning tools became quite common in the education sector. The functionality of 'anyone can build' e-learning tools made it possible for all to learn more. The extra benefits of progressing technologies apart from overcoming geographical boundaries and less cost transformed the learning mode. When methodologies like podcasts, augmented reality, learning analytics, mobile internet, etc., were introduced, they proved to be a boon to the industry of e-learning.
Other important developments of this era include:
Content created by user
Educational gaming
Digitization of libraries
Cloud computing
Virtual worlds
Online videos
E-books
Computing based on gestures
Mobile learning
Picture since 2011
There was further simplification of the creation of E-learning courses. Currently, e-learning is popular with students, trainers, and businessmen. The industry features easy to use tools. There are lots of interactions, virtual classrooms, video conferencing, expert advice, more advanced etranslation services, etc.
In sum, E-learning has a bright future and will expand with progressive technologies. elearning localization is expanding with new technologies like tablet computing, cloud, social media, etc.