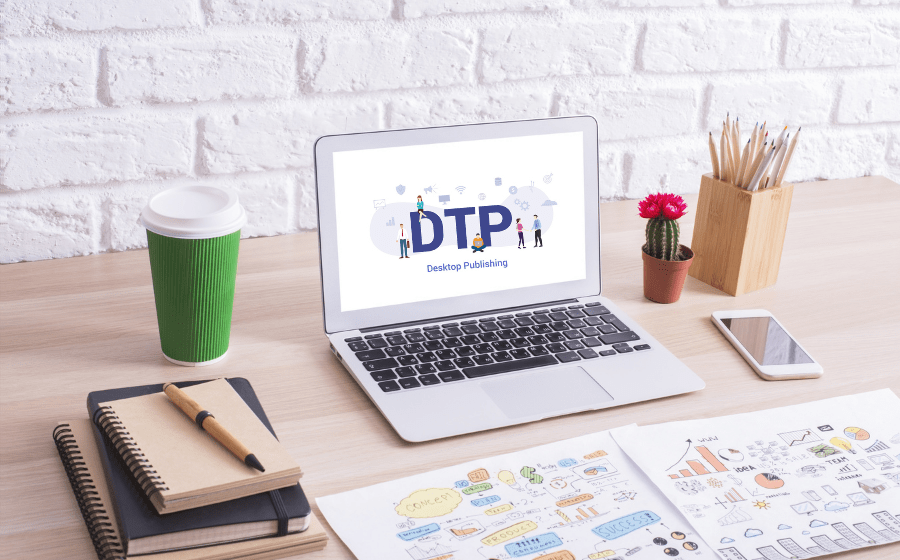 26 May

4 Reasons Why Your Brand Needs Multilingual Desktop Publishing

Despite being the last and final step in the localization process, multilingual desktop publishing ensures that the original material's tone and visual appeal are preserved. If your material lacks it, it may not have the desired impression on the reader.

If your brand's target audience is dispersed throughout the globe, or if you aim to target an international audience, multilingual DTP makes your branding materials accessible and builds trust among your target audience.

But that's not the only reason you should devote time and resources to multilingual desktop publishing. There are some main reasons for preferring multilingual DTP services, such as:
Visually appealing layouts
Venngage surveyed 200 businesses and revealed that 25% expected to spend up to 30% of their marketing budget on visual content creation. While visual content is popular on the internet, it is also essential for offline marketing.
The labels, pamphlets, journals, and brochures of a company all contribute to its consistent branding. As a result, we've come to recognize, identify, and know popular businesses based on their visual features, such as colors, logos, font size, font color, etc. For example, when you see a certain shade of purple, your mind immediately thinks 'Cadbury!' or "Hershey's" when you see a certain shade of brown.
If the text is translated into one or more languages, maintaining the visual appeal becomes more difficult. Every language has its own writing script, so the layout of the material must be adjusted correspondingly. When you use multilingual DTP services, the service provider handles these design details and gives you translated information that looks exactly like the original.
Customization of all types of documents with efficiency
The best thing about multilingual DTP is that it is not limited to a particular topic or document type. By customizing any brand material to your audience, you can gain a competitive advantage. Consider how Natural Delights, a well-known chocolate company, changed their packaging for Canadian customers.
Take note of how they have clearly shown their product certification – USDA – as well as literature in two languages – English and French. All Canadian products must include text in the official languages on all packaging.
As you are aware, brand material customization is required in accordance with national and state laws and regulations. Multilingual DTP services allow you to modify numerous types of material for a variety of industries:
In-flight magazines, printed itineraries, pamphlets, billboards, and so on.

Food and hospitality: printed menus, corporate deal booklets, guest name tags, hotel brochures, product labels and packaging, and so on.

Printed manuals, contracts, and other technical and engineering materials.

Medicine labels and packaging, health awareness flyers, hospital pamphlets, hospital administration material, and so on.
A cost-effective production process
Professionals with a wide range of abilities are required for multilingual desktop publishing.
If you need printed materials translated into numerous languages, you'll need people with the following skills:
Understanding of the software: Every multilingual desktop publishing software has its own quirks, which must be understood in order to utilize the product effectively. You will require design specialists that are familiar with applications such as Adobe InDesign, Adobe FrameMaker, QuarkExpress, Powerpoint, and others.
Linguistic abilities: You'll need a translator who can correctly translate the text from the source language to the target language and understand the content's context.
As you can expect, this procedure will necessitate hiring people with the necessary talents and assisting them in gaining experience in your business. Partnering with a multilingual desktop publishing service provider, on the other hand, will save you money and time. Translate By Humans, for example, works with designers and translators who have appropriate experience in your business to execute such assignments.
Broader reach with offline marketing
All multilingual desktop publishing material is designed to be printed for its designated audience. This material provides your brand with an ideal medium for offline promotion in the shape of packaging, boards, flyers, booklets, banners, posters, business cards, business stationery, and so on.
While corporations have increasingly relied on online marketing in recent years, some brands use offline marketing to supplement it. Offline marketing has a high recall value. A magazine having your brand's logo and message on it will improve brand memory.
Also, keep in mind that a significant portion of the world lacks internet access or chooses to make purchases offline. In industrialized and developing countries, respectively, only 80% and 30% of individuals have internet access. Offline marketing methods assist you in reaching this segment of your target audience and converting them into clients or customers.
Conclusion
Every element linked to your brand contributes to your overall image and influences purchasing decisions, business collaborations, and so on. Typographical errors, poor layout, and erroneous translation can erode your brand's credibility and client loyalty. Multilingual desktop publishing gives accurate, culturally correct, and professional material to your clients, customers, and partners, and can help you gain trust and influence.
Contact us at: info@www.dtplabs.com