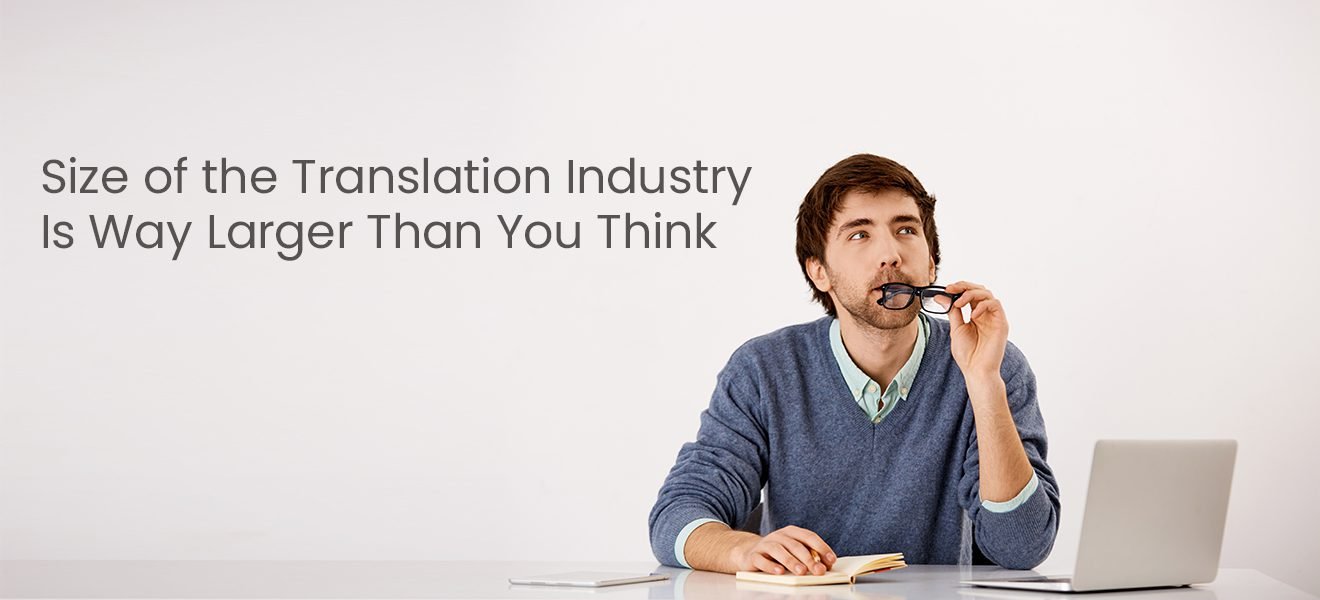 12 Feb

Size of the Translation Industry Is Way Larger Than You Think

A lot of people think that the translation services industry is only about providing translation between two parties, and therefore, there is not much scope of progress in it. With the advancements in technology, even professional translators worry that soon automated computers will take over the entire industry. 

But these ideas are mere myths when you observe the actual size of the translation industry. The translation industry is a vast sector consisting of translation and localization services provided by online translation companies, where automation is only a small part of the entire structure. 

To develop a better understanding of its complexity and essentiality, here's a brief look at the various aspects of translation services.
What Are the Translation Services?
Translation services cover all forms of translation activities needed by an organization or an individual. Parties may need translation services to translate their written documents, websites, software, and applications for business projects in other countries. Translation services also cover the aspect of localization, where the service providers focus on local traits for SEO purposes. 
Types of Translation Services
Based on the requirements of business owners, translation services may provide the following types of translations.
Technical Translation:

 Technical translation includes translating technical documents such as instruction manuals, reports, scientific papers, and all other documents that use a scientific or a technical type of presentation.

Financial Translation:

 As the name suggests, financial translation services cover the translation of financial statements, accounts, reports, and other financial papers of an organization.

Literary Translation:

 Translation of literary texts and other forms of literary works used for educational purposes.

Legal Translation:

  Legal translation refers to the translation of legal documents such as lease agreements, registration certificates, warrants, notices, and other documents that have to be translated precisely in a legally acceptable manner. 

Other:

 Translation services can be classified into many other types such as certified, judicial, and juridical translation services, depending upon the type and application of the documents. 
Impact of Machine Translation
Machine translation refers to the automated tools capable of translating documents without human interference. Though it seems to be a very profitable option for translation, it is not that preferable where accuracy and quality are top priorities. When tested against different formats, fonts, multiple languages, and types of documents, machine translation often returns inconsistent results. 
Growth of the Translation Services Industry
The growth of the translation services industry is unaffected by various external and internal factors. The arrival of machine translation has not slowed the progress but acted as an efficient tool to further expand the growth. In 2018, the translation services industry was estimated to have a market value of $37 billion, with a steady growth rate over the past decade. 
Various modern factors like globalization, technological progress, and the popularity of online businesses have all played a vital role in generating steady growth for the industry. And based on the ongoing trends, the future of the translation industry seems quite promising.
Conclusion
Apparently, the size of the translation industry is quite larger than most people realize. Online translation companies are today providing translation and localization services that perfectly suit all types of business requirements. With modern technological advancements, service providers can also handle complex tasks such as multilingual audio and video transcriptions. 
If you are looking for high-quality translation services well-equipped with all the tools and expertise, then we are here. DTP Labs is the best service provider in the industry, and we offer the best desktop publishing and translation services online. 
So, just contact us, and we'll take care of all the rest.