05 Apr

Lightroom vs. Lightroom Classic: Understanding Their Key Differences

The best digital shots are the photoshopped ones indeed. The two capable picture editing programmes are Lightroom and Lightroom Classic. They may share a very similar name but differ significantly in their features, user interfaces, and compatibility. Here in this blog, we are going to briefly discuss the difference between the two.
1. Interface: 
The very first thing you'll notice when you launch Lightroom and Lightroom Classic is the UI. With a user-friendly design that makes it simple to browse through your photographs, Lightroom's UI is more streamlined and contemporary. However, some users may find Lightroom Classic's interface a little archaic because it is more conventional and resembles the previous Lightroom 6 version. But, the interface of Lightroom Classic offers greater customization options for your workplace.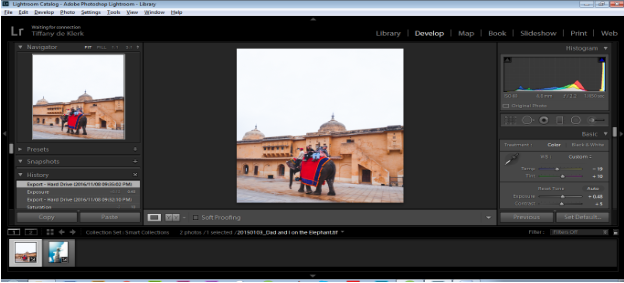 2. Features:
Many elements between Lightroom and Lightroom Classic are shared, including presets and editing tools. There are a few significant functional distinctions between them, though. The way that photographs are organized in Lightroom and Lightroom Classic differs significantly. Whereas Lightroom Classic relies on a folder-based approach, Lightroom employs a catalog-based one. If you have a complicated organizational structure for your images, Lightroom Classic gives you more flexibility over where your files are kept when you import and export your photos.
Another main difference is the editing skills between Lightroom and Lightroom Classic. A complete collection of editing capabilities is available in Lightroom Classic, including more intricate noise reduction, extensive color and tone adjustments, and a spot removal tool for defects and undesired objects. On the other hand, Lightroom may not have the same amount of depth in its editing capabilities as Lightroom Classic because it has a greater emphasis on speed and usability.
3. Compatibility:
The interoperability of Lightroom and Lightroom Classic with various operating systems is one of the key distinctions between both. While Lightroom may be used on both desktop and mobile devices, Lightroom Classic is geared for desktop use. However, because it can handle enormous photo libraries and more difficult editing jobs, Lightroom Classic is better suited for people with larger, more powerful computers or laptops.
DTP Labs is a desktop publishing company based in New Delhi, India. We offer PDF to Word conversions, post-translation DTP, and e-Learning localization services to translation agencies worldwide. To avail of our services, check out our website www.dtplabs.com, or contact us at info@dtplabs.com.
conclusion, Lightroom and Lightroom Classic are both capable picture editing and management programmes, but they each have advantages and disadvantages. Lightroom might be a better option for you if you're searching for a more contemporary and organised user interface and want the ability to edit on both desktop and mobile platforms. On the other hand, Lightroom Classic is the way to go if you require more sophisticated editing tools and desire greater control over the management of your photo library. Regardless of the programme you select, Adobe's picture editing capabilities are some of the best available and will undoubtedly aid you in realising your creative goals.